Just like everything else on the Mac, the Dock can be customized to suit your specific tastes. Would you like the Dock to disappear and only appear when needed, or would the Dock along the side of your screen work better, or are the icons too big or small?
There are several ways to customize the Dock; either using System Preferences, Dock Options in the Apple menu, or a "secret" pop-up menu in the Dock itself.
Step 1: Customize the Dock using the System Preferences
1. Single-click the System Preferences icon in the Dock
2. Single-click on the Dock icon.
3. Using the sliders, checkboxes or radio buttons, you can adjust position on the screen, size, magnification and animation.
Magnification
Enabling "Magnification" causes the icons in the Dock to enlarge as the mouse is placed over them, along with displaying the name of the application.
Minimize using
The two available options, Genie Effect and Scale Effect, changes how windows float down into the Dock when minimized.
Animate opening applications
This option causes the icons in the Dock to bounce when clicked upon to open.
Automatically hide and show the Dock
This does just what the option says. Enabling the option causes the Dock to disappear. The Dock will reappear whenever you move the mouse into the edge where the Dock disappeared.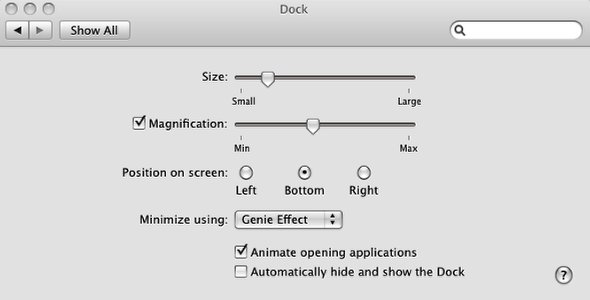 Step 2: Resizing the icons and the entire Dock
Click and drag the dividing line in the Dock allows you to resize the entire Dock.

Step 3: Customize the Dock using the Apple or Dock menu
Using either the Apple menu or the Dock menu itself, you can customize and modify the various Dock settings without having to open System Preferences.
From the Apple menu: Select Dock and then choose the options you want to change.
To access the Dock menu: Either hold down the Control key and single-click the dividing line, or you can right-click the dividing line and the menu will pop up (as shown above).
Using the various methods described you can customize the look and feel of the Dock any way you want.
Customize, Dock, Finder, OS X