One of the exciting new upgrades in the upcoming release of Snow Leopard will be a vastly improved QuickTime player called QuickTime X. With not only a cleaner interface, but also improved performance and new features to make media viewing and even creation and editing much easier.

Performance is improved by accessing the decoding capabilities of the NVIDIA GeForce 9400M graphics processor found in many of the newer Macs.
QuickTime X introduces a new, cleaner interface that removes the window and playback controls once the video starts, leaving just the video center stage.
You will also be able to convert and save your media files for iTunes, your iPhone, iPod or AppleTV.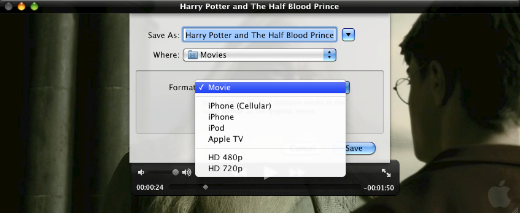 If you use MobileMe or YouTube, your media files can automatically be converted, optimized and uploaded to the service in the best format possible.

QuickTime X also supports the ability to capture audio and video using compatible equipment, simply by clicking the Record button. In addition, screen recording allows you to capture any action taking place on the screen allowing the creation of instructional videos instead of static screenshots.
These new features in QuickTime X will make media and video playback a simpler and more enjoyable process.