IM+ and Beejive now offer Push Notification. Here is a review of Shape Services IM+ 3.1 offering.
Services
Availible Services:
Skype, AOL, MSN, Twitter, Facebook, Yahoo!, Google Talk, Jabber, ICQ, MySpace
Shape Services IM+ 3.1 currently offers two additional services over Beejive. Skype and Twitter.
I feel the twitter integration works well, but if you are a die hard twit you will desire much more. Problem is you can only have one account. You can see @Replies, Direct Messages, Favorites, and Friends Time lineā€™s. Tweets have a unique (annoying) noise when you receive a new tweet.
Push Notification - Twitter
Here is a sample Push Notification from Twitter
Settings
Settings Options are:
Connect at start up
Block messages from users not on your contact list
Screen Orientation: Autorotate, Portrait, Landscape
Wallpaper
Sound
Vibrate
Settings > View options are:
Show offline contacts
"Offline Group"
Contact list groups: Group by: Group Name, No Group, Group by accounts
Show Avatars
Settings > Push options are:
Keep IM Services connected on exit
Sound Notifications
Pop-up message notifications
Unread messages count
Keep IM services connected for: 10min, 30min, 1hr, 6hr, 12hr, 1day, 3days.
IM Autoreply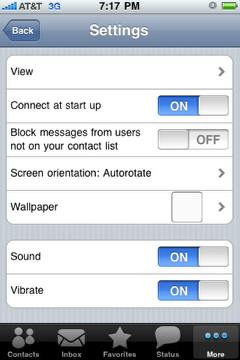 Screen Orientation
This is my favorite feature of IM+. I prefer to lock my landscape througout the entire application. No more endless cycles of autorotate!
Please note: IM+ 3.1 has an issue with Landscape (see 2nd picture). Once set and you exit the application you will return to find the screen is offset and un-viewable. You can manage to click the More options and navigate to settings to disable the Landscape lock. I hope they fix this soon, it happened on my iPhone 3G and a friends 3GS.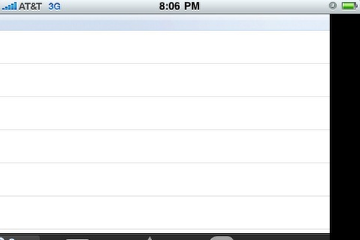 Chat Window No Keyboard
Here is the chat window, you can change the background of this window, but I find it extremely annoying to read when you have a background of anything other than white. To me the backgrounds are nice, but pointless.
About the chat: I like IM+ more than Beejive. My buddy does not.

They are both excellent apps.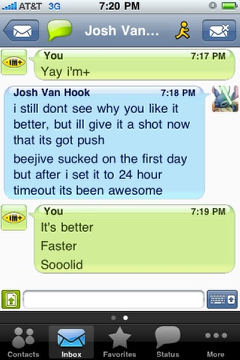 Send Location + Send Picture or Voice
When you are in the keyboard-less chat windows you will have an icon available in the bottom left which will pull up the Send Location, Send Picture, or Send Voice Message box.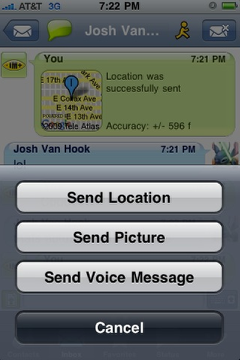 Show Location
Quite the cool feature, you can send your current location. Although I think the 600 feet accuracy was a bit inacurate here. I was on 12th street.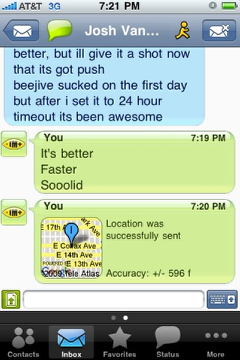 Flick Switch Chats
This is another of my favorite features in IM+. The ability to flick to switch chats, yes its a little feature. I find Beejiveā€™s method to be clunky, by clicking a bar and selecting the avatar of your desired active chat. Both work, and you could argue IM+ flick to switch has the disadvantage when managing multiple chats.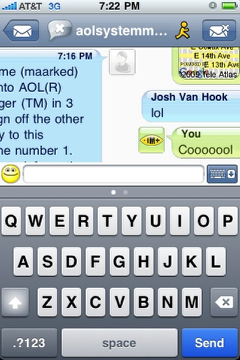 Review
Despite the landscape flaw, I prefer IM+ 3.1 over Beejive 3.0… ever so slightly. As I said, both are excellent choices. The user interface seems quicker than Beejive on my 3G phone, although I suspect 3GS owners wont notice any speed differences. Personally I like the user interface over Beejive, although my friend prefers Beejiveā€™s UI. Both now offer Push Notification and essentially the same core features. Last but not least, I have noticed IM+ has been less susceptible to crashes.
Pros:
Twitter + Skype
Cheap
Fast
Cons:
Broken Landscape
Cannot Disable Single Services
iPhone, Messenger, Messaging, Push Notification