Do you occasionally need to do a unit conversion, but can't remember what the formula is? Or how about currency conversions when traveling? Well, the folks over at taptaptap have developed probably one the best conversion apps for the iPhone.
Convert is a unit converter and calculator application for your iPhone that has a clean, elegant and simple to user interface and that provides probably the most comprehensive conversion options available.
The Convert interface couldn't be simpler. When you open the app you are presented with a calculator-type interface, allowing you to enter the value and units to convert from along with the units you can convert to.
Just enter the value and select the units to convert from on the left hand-side and then scroll and select the units to be converted to on the right-hand side. Conversion is instantaneous. You can even tap the "Magic Lens" and convert the other way.
Convert covers a wide range of conversion units:
Angle
Area
Computer
Currency
Energy
Force
Length
Power
Pressure
Speed
Temperature
Time
Typography
Volume
Weight
Using a "Magic Lens" interface, when you select a conversion group, only corresponding units that are related and "convert-able" will be displayed, helping to reduce possible confusion and clutter with the interface.
One of my favorites is the ability to instantly convert currencies using the latest conversion rates. When you select the currency category, you will see the time duration since the latest currency conversion rates were downloaded. To refresh, just hit the refresh button and the latest information will be downloaded.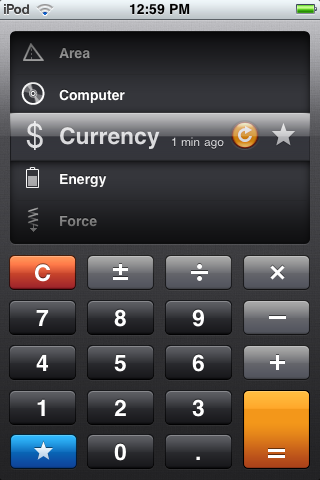 Other nice features in the app include the ability to set favorites, letting you quickly move between your most used conversion categories, a built-in calculator and full support for Copy & Paste if you are using iPhone OS 3.0 and greater.
While Convert will not be an app that you use everyday, it definitely is something you should have on your iPhone for those occasions when you really need to do that obscure conversion that no one remembers the exact formula for.
Convert is available in the App Store and costs $0.99