Heres a quick guide on how to enable tethering on any iPhone running iPhone OS 3.0-without jailbreaking-on your Mac.

Pre-Requisites: Make sure that you have upgraded to iTunes 8.2 and have already upgraded your iPhone to the new OS 3.0.
Standard disclaimers apply here. Please read your contract terms of service carefully before proceeding to ensure that you are not breaking your iPhone carrier agreement. Also, while these methods have worked for most people, we cannot guarantee that they will work for you, and you must make these modifications at your own risk. If you do not feel comfortable making these modifications to your phone, we urge you not to try.
Step 1: Enable Carrier Settings in iTunes
Open your Terminal application located in your /Applications/Utilities/ folder and run the following command:
defaults write com.apple.iTunes carrier-testing -bool TRUE
Step 2: Download The Updated iPhone Tethering File
Download this file for AT&T. Once it has downloaded double click the file to make sure it is mounted on your desktop.
For other carriers, try here.
Step 3: Update Your iPhone
Connect your iPhone with iPhone OS 3.0 software loaded to your computer and go to the Device Summary page in iTunes. Hold down the Option key on your Mac and click the Restore button. iTunes will ask you to select a file, so browse to the mounted carrier settings file and select the ATT_US.ipcc file. iTunes will now perform an upgrade on your iPhone and display the previous message.
Step 4: Set Up Tethering On Your iPhone
Launch the Settings app on your iPhone and navigate to General -> Network while your iPhone is still tethered to your computer. You should now have an "Internet Tethering" option, go ahead and turn it on.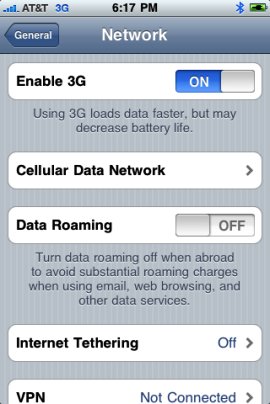 Step 5: Happy Tethering!
Make sure your iPhone is still connected to your computer by either connecting the USB cable or by connecting via bluetooth. If tethering is successful, your Mac should prompt you that a new networking device has been detected. You can now configure your Network Preferences if you want to make it te default connection. Happy Tethering!