Did you know that iTunes 9 added a new feature that will allow you to automatically add media files to your iTunes library? Using a feature called "Automatically Add to iTunes", you can easily add media to iTunes.
iTunes 9 add many new features and you may have not yet discovered them all. One feature that can help simplify your iTune library management and the addition of media to the library is the "Automatically Add to iTunes" feature.
All you need to do is to place media files in this folder and iTunes will analyze the content and add to the library. If iTunes is not running, any files placed in the folder will be analyzed the next time you open iTunes.
If you place a non-compatible file in the folder, iTunes will analyze and determine it is not compatible and place the file in a sub-folder called "Not Added". iTunes will not delete or remove these incompatible files, so you should periodically check the contents of that folder and clean out the files as required.
The "Automatically Add to iTunes" folder is located under your iTunes Music folder.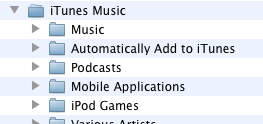 If you add a lot of media to your iTunes library, any easy way to access the folder is to create an alias on your Desktop, so all you would need to do is drag your media files onto the alias on the desktop. Or if your are really ambitious you could create an Automator script that copies the files directly into the "Automatically Add to iTunes" folder.
If you've developed Automator scripts or have any other iTunes tips and tricks, let us know. If you write an article and we publish it, we'll give you an iTunes Gift Card. Contact me at bob(at)mac101.net