Did you purchase an iPad as a quasi-notebook replacement to use when you don't need a full notebook while out of the office? How do you manage your files and migrate them between the iPad and your computer? Well, GoodReader from Good.iWare makes the management and transfer of files to/from your iPad a snap.
If you need to move files between your iPad and other sources, such as your computer. cloud services, FTP server, Google Docs and even MobileMe, then GoodReader is a definite must-need application for your iPad.
GoodReader is a document management application that provides the tools to download and manage files, documents and pictures on your IPad. In addition to just being able to move and download files to/from your iPad, you can also rename files, move them between folders and email them from your iPad.
When you start GoodReader you are presented with a split-pane display. On the left-hand side, you will see a listing of the files on your iPad, while on the right-hand side, there is a listing of actions that can be performed on the files.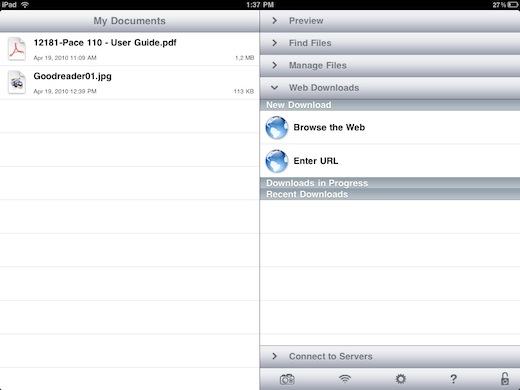 The Manage Files menu provides you with numerous file command, including copy, cut, protecting flees, e-mailing and organizing files by creating folders and moving files as required.
The Preview option allows you to open and read the variety of files stored on your iPad. Rendering of PDF files is fast an accurate. The other formats supported by GoodReader include:
- Microsoft Office
- iWork '08/'09
- HTML and Safari webarchives
- Images
- Audio and Video files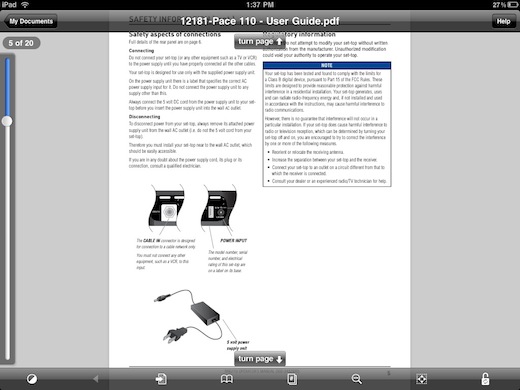 The feature that I find most useful is the ability to connect to cloud services and both download and upload files from those services.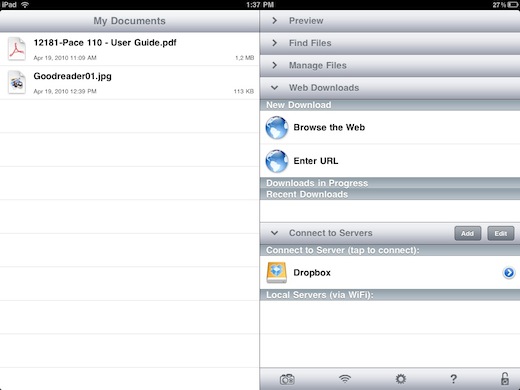 The services supported include Mail Server, MobileMe iDisk, Public iDisk, Google Docs, Dropbox, box.net. FilesAnywhere, MyDisk.se and any WebDav Server, along with FTP Servers.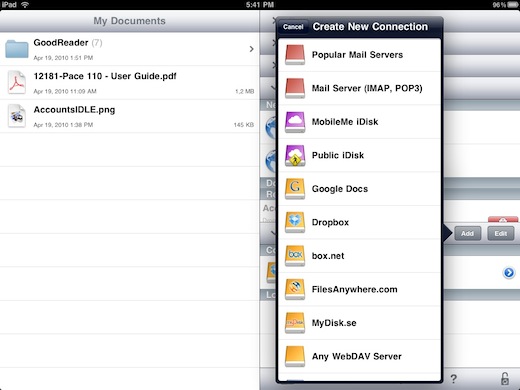 If you don't make use of any of those cloud services, you can still transfer files over WiFi using the WiFi-transfer option. You can access your iPad using your browser and upload files, however only one at a times, so this method is somewhat slow and cumbersome.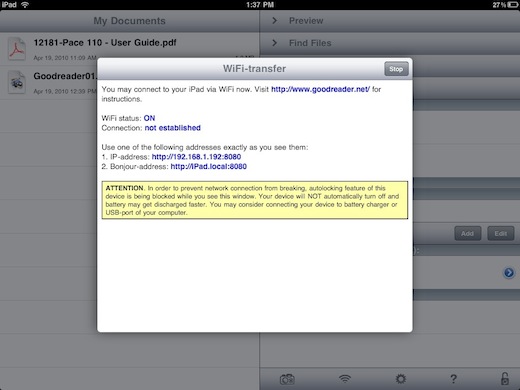 GoodReader also provides access to your iPad's Photo Library, so you easily move and work with the images in your Photo Library.
Good Reader for the iPad, along with the iPhone version gives you the access to your files whenever you are on the go and lets you use your files no matter where you are. It is a valuable business tool that enhances your iPad and allows you to use the iPad as laptop-replacement when you don't need the full horsepower of your laptop.