If you have been waiting for a minimalist Gmail client for the Mac your wait may be over. Other Gmail clients have come with lots of features, which many folks simply don't want or need. Sparrow for Gmail from Dinh Viet Hoa (@dinh_viet_hoa) and Dominique Leca (@domleca) provides a simple, yet powerful Gmail client that provides the basics and nothing else fancy. Sparrow is still in beta, but if the released version works this well, then we have a winner on our hands.
Sparrow for Gmail is a free Mac desktop client that gives you access to your Gmail e-mail account in a fast and efficient way, without many of the bells and whistles of the web application. With Sparrow you can send and receive e-mail, archive messages and filter drafts and starred items. If you use labels, filters or the new Priority Inbox feature of Gmail, then Sparrow is not for you. But if you just want a basic client that you can leave open and minimized all day, then consider looking at Sparrow.
Once you setup Sparrow with your Gmail account information and start the application, you are presented with your Inbox in a clean, simple window. From there you can view your e-mail messages with a two-line preview, or open the full preview window, by clicking on the icon in the lower right-hand corner, which will open the slide-out preview window.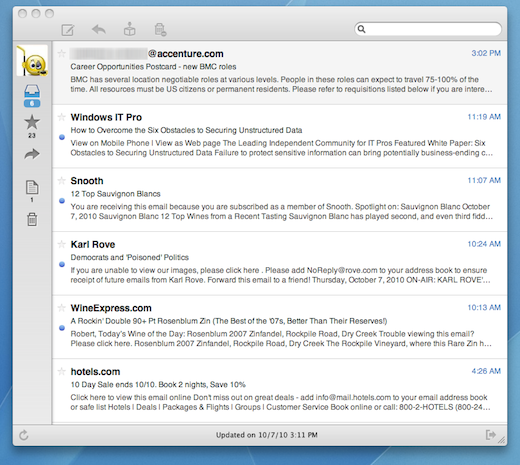 You can also double-click on a message, which opens it in a new window. In either the slide-out preview window or separate message window, you have access to all the normal e-mail commands; Reply, Forward, Mark as Unread or Print. There's even an Info button, which will show you the e-mail header information.
Composing a new e-mail message is simply done by clicking the Compose icon at the top left of the Inbox window. Interface is straight-forward, allowing you to add addresses, and even include CC: and BCC: recipients, along with supporting attachments.
You can also archive or delete messages from the main Inbox window. Other than that, there's not much else to say about features.
The Preference panes are pretty sparse. Sparrow can support multiple Gmail accounts and supports Growl, which will give you an on-screen alert and notification of a new message. Sparrow also puts its icon in the Taskbar with an indicator showing the number of unread messages.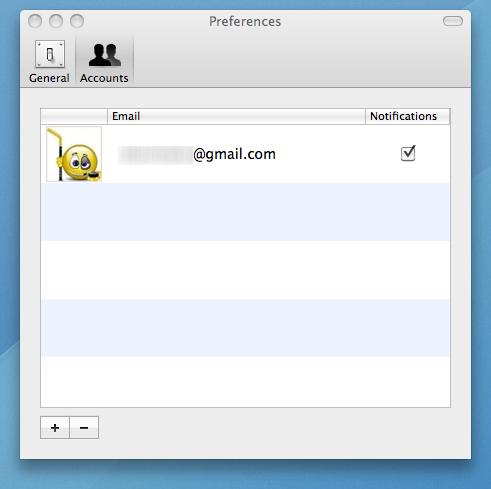 Having used Sparrow for the past two days, I really like what I see and how the program works. Plus if the proposed enhancements listed on the webpage come to fruition, then Sparrow will have found a permanent home on my desktop.
Sparrow is available for free at http://sparrowmailapp.com and is currently in Beta, with no information on future pricing or if it will remain a free application.