Here it is, Beejive 3.0 with Push Notification for the iPhone! We discuss some of its basic changes and give you the pros and cons of their latest release.
Polished Interface
Nothing real innovative in the interface, although they have done some nice improvements to the UI.
My biggest gripe with Beejive 2.2.1 was speed, things slowed down to a crawl with a huge chat history. I cant say for certain that issue has been resolved in 3.0. However the GUI is noticeably faster than its previous version.
Messaging Services
Standard services still remain. AIM, Mobile Me, Google Talk, ICQ, Jabber, MSN, Windows Live, MySpace IM, Yahoo! Messanger, and Facebook IM.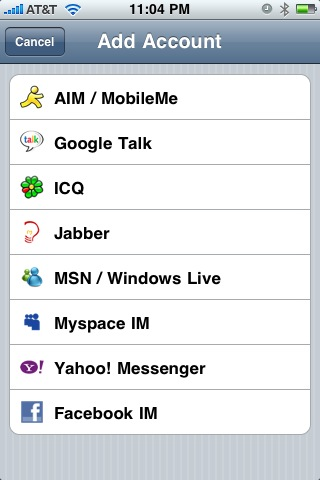 Push Notifications
Push Notification! Sounds so great! It can help you cut down SMS, save battery, and always know whats going on… well that's the problem. Your phone will be a buzzin all day with these messages if you're a heavy AIM user.
If this is your first Push Notifications enabled apps, then you have a new section called Notifications in your iPhones Settings area. You can change your notification preferences for each Push enabled application. You have the options to change: Sounds, Alerts, and Badges.
Really though, the Push services are awesome, and work flawlessly with Beejive 3.0.
Clicking View from Notification Screen
Clicking the View icon from above will open Beejive and display a One to All messages, which is configurable in Settings > Beejive.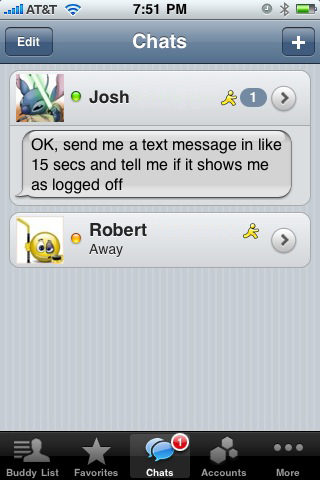 Review - Pros and Cons
In the end, I think Beejive has put out a excellent product, and addressed some issues we saw in previous versions. The high price isn't warranted, other products such as IM+ give it a run for the money. If you find Beejive 3.0 on sale for less than $10, grab it.
The interface is still lacking two key items. The ability to lock the screen in landscape, and the process of changing to another active chat is still clunky. IM+ got these two features right with their implementation. However Beejive does have a second option called "Shake to Switch Chats". If you are like me, then you find shaking your phone the worst possible UI option made available to the iPhone. It doesn't work, its unnatural, and you look like you're in a fit of rage or in need of some alone time. Devs, please stop wasting time with "Shake to…"
Pros:
Push Notification
Lots of Options
Faster than previous version
Cons:
Expensive
No locking Landscape Mode
Interface is still lacking