Scanning and OCR with your iPhone? If you have had a need and could not find a suitable or accurate enough app, well your wait is over. Prizmo for iPhone from Creaceed allows you to check that requirement off your list and gives you a tool to scan text, business cards , receipts and more.
Using the iPhone's built-in camera, Prizmo takes a photo or uses existing photos in your photo library and allows you to OCR the image and captures the information quickly and easily saving you time and avoiding re-typing information that you want to keep.
To test Prizmo, I took some Apple documentation and after opening the app I took a picture of a specific paragraph from a random page. Prizmo provides tools to do basic editing and cropping of your photo. In my case, I used the image rotation tool.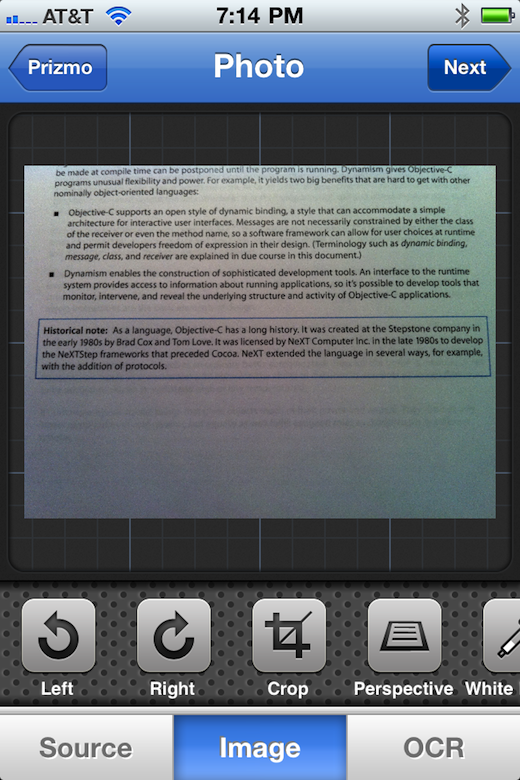 After rotating the image, I decided to crop to a specific paragraph. selection was easy and accurate.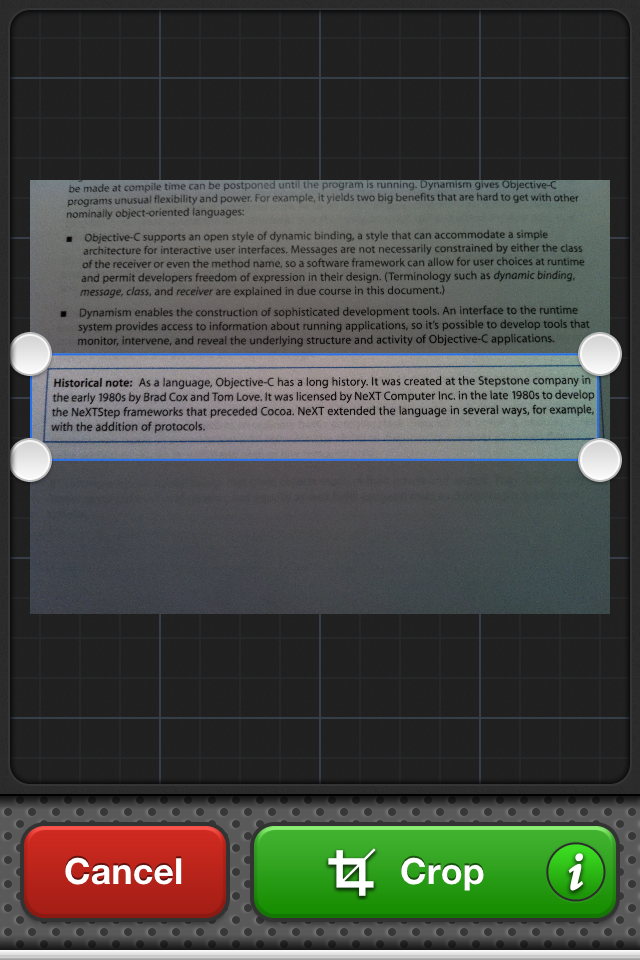 After cropping and hitting Next, Prizmo OCR'd the image and converted it to text. An editing screen with the text was presented. I probably should have selected a paragraph without a border around it, that's why Prizmo included various punctuation symbols where the border was found.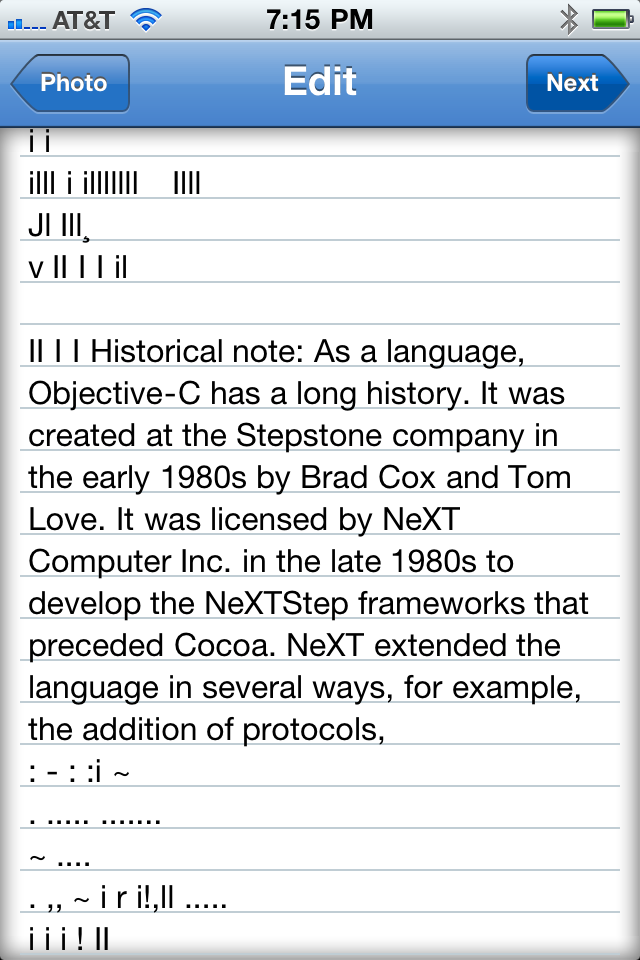 Editing the text was extremely easy and the OCR accuracy of the actual text was 100%.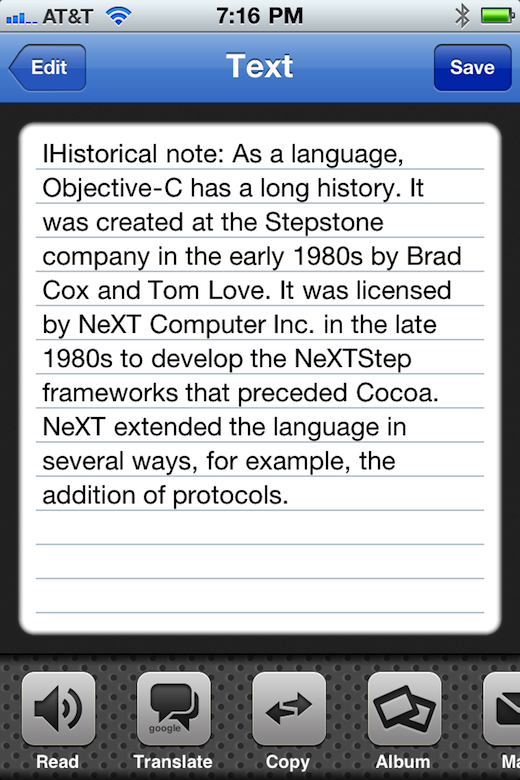 Hitting Save the document was saved in Prizmo's Document library with an image of the original photo allowing you to easily find items as the library grows.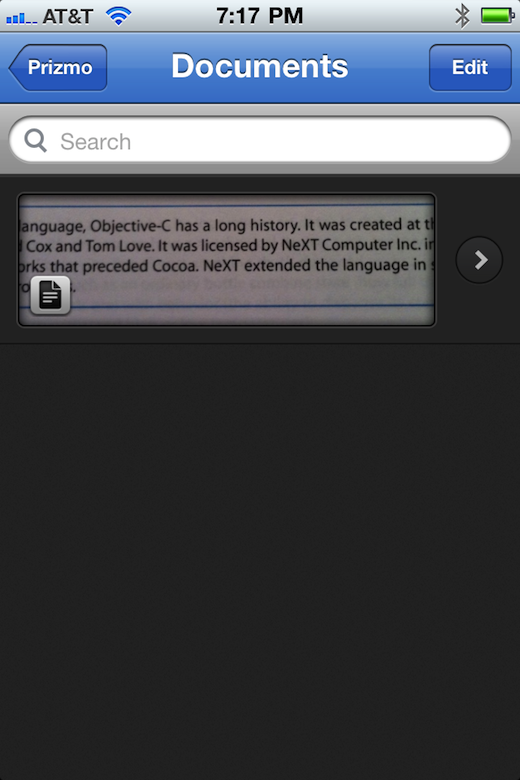 Since accuracy is extremely important when capturing and OCR'ing documents, I tested two other items (newspaper excerpt and business card) and again achieved 100% accuracy with the OCR.
Prizmo has a long list of features for image processing, such as rotation, cropping, perspective correction, white point adjustment and image inversion. Document handling features include saving, loading and re-editing of processed documents. Output can be sent to the iPhone's Address Book, emailed, copied & pasted and even sent to several cloud-based services, such as Dropbox, CloudApp, MobileMe and Evernote.
Another feature if you need it, is Text-To-Speech (TTS) which is available through an In-App Purchase and allows you to select from 35 different high-quality voices in different languages.
Prizmo works with iOS 3.1 or later and on the iPhone 2G or later, however the iPhone 2G or 3G require the Griffin Clarifi Case in order to improve the image quality.
As we continue to be buried with documents, business cards and information in general during our daily lives, we often need or want to save specific items, Prizmo gives us a tool to do just that without being buried in paper. It's OCR accuracy and ability to manage and store documents, including in the "cloud", it is definitely an app that most users will find invaluable on their iPhone.
Prizmo is available in the App Store for $9.99.