Apple released a new feature called AirPrint as part of iOS 4.2, but if you don't have an AirPrint-compatible printer you can't use this great new feature. To the rescue comes eCamm, with their Mac application called Printopia.
Apple's current release of AirPrint seems to have been "dumbed-down" by not allowing iPhone and iPad users to print to shared printers via their Mac. There were rumors that reasons were legal, which caused Apple to pull that feature. It may be added at a later date, but right now there are several third-party apps which allow you to print to shared printers and solve the problem and probably the best that we've seen is Printopia from eCamm Networks.
Printopia for Mac is a System Preference pane that allows you to use AirPrint to print to any printer that is defined and setup on your Mac. Printopia brings other features to the table and also allows you to send print jobs to your Mac as a PDF or JPG and even send them to your Dropbox.
After installing Printopia, you will be presented with a Preferences pane, where you can enable or disable which printers you wish to share with AirPrint-enabled devices on your network. You can also enable or disable Printopia by using the on/off slider.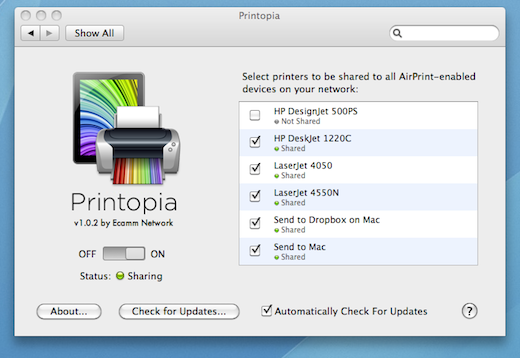 Printing from your iPhone or iPad couldn't be easier. Just select Print from the corresponding menu and you will be presented with a list showing all available printers.
Once you select a printer it will be "remembered" as your default selection the next time you print from that app.
To actually print, just select Print and you will be presented with a print menu, where you can change the printer, modify what you want to print and how many copies to print. Hitting the Print button sends the job to your printer via the Mac running Printopia.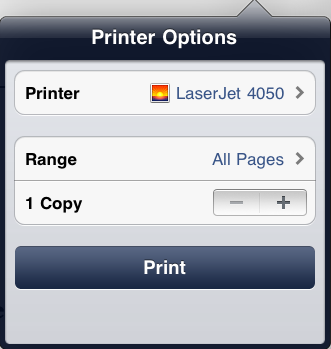 That's all there is to it.
Printopia solves the problem of the limited printers that work natively with AirPrint and allow you to print to any shared printer on your network via a Mac running the Printopia software.
Printopia for Mac from eCamm is available on their website and costs $9.95. You can download a free demo version and try it out for 7 days.