If you use a Mac and regularly use an RSS feed reader, then you've probably used or heard about NetNewsWire for Mac, well now there's a new version for the iPhone that syncs with your Google Reader account and lets you start up-to-date with your RSS feeds wherever you are.
NetNewsWire 2.0 for iPhone, from the folks over at NewsGator, complements their full suite of RSS feed readers from the Mac, Windows, and mobile devices, and brings a full-functioned RSS reader to the iPhone. The initial release of NetNewsWire worked with the NewsGator's feed service exclusively, however several months ago, NewsGator decided to forgo their own newsfeeds and work with and sync with Google Reader.
Setup of NetNewsWire is very simple with the only requirement being is that you must have a Google Reader account. Just enter the information in the applications settings page. NetNewsWire also supports Instapaper uploads.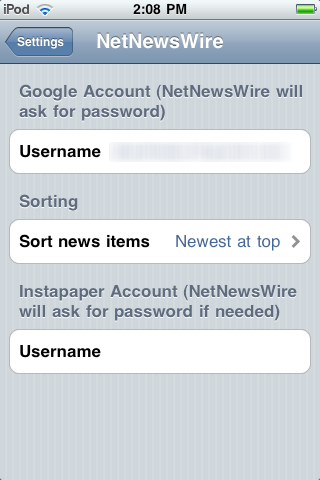 Once configured, NetNewsWire will download and sync with your Google Reader account, only downloading unread feeds and articles using the same folder structure that you have setup on your Google Reader account. This makes staying organized when reading news on your iPhone easy.
The number of unread news items are displayed on the right-hand side. To open the entire folder, just tap the name, or it you want to open the folder to go to a specific feed just tap the arrow on the left and the folder will expand.
Once open, you will see all the articles along with the newsfeed name and the date the article was posted.
To read an article just tap the title and the entire article will be displayed.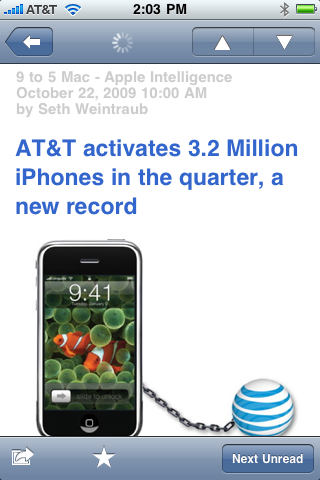 NetNewsWire does an excellent job rendering graphics and embedded media, allowing you to play those media files. Articles can be "favorite-ed" or by tapping the actions button, you can email the article, post to Twitter, Send to Instapaper or even open the article in a browser window.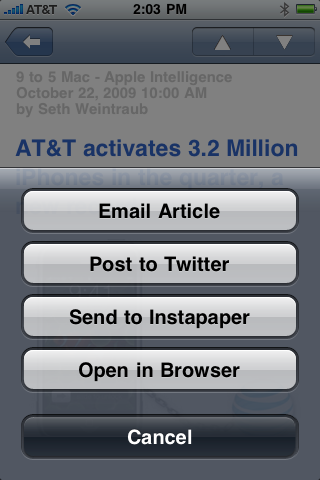 There are many RSS feed readers available on the market, but if you use NetNewsWire on your Mac, then NetNewsWire 2.0 for iPhone is a fine complement and does a very good job helping you stay in sync with your Google Reader account.
NetNewsWire 2.0 for iPhone is available in the App Store and has both a free, ad-supported and a paid (without ads) version.