NASDAQ has joined the iPhone app fray and has released NASDAQ Portfolio Manager to help you manage your portfolio and get real-time quotes and the latest stock data and even ideas for investors using the built-in StockTwits feature.
NASDAQ Portfolio Manager for iPhone brings the power of NASDAQ.com to your iPhone, providing real-time data, stock quotes and information. When you open the app you are placed in the Stock Finder window, where you can enter the name, symbol or search for a stock by entering the company name.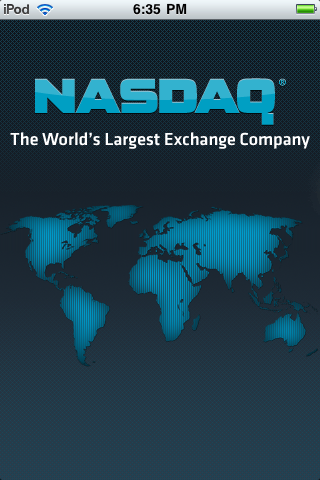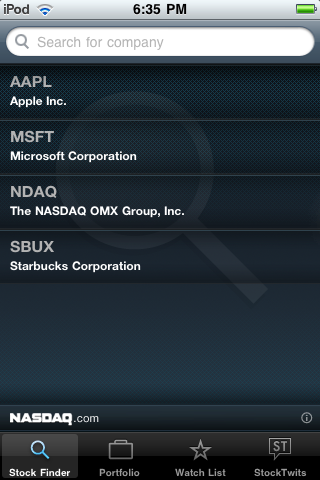 Tapping on the stock name opens the detailed information page for that stock, which gives you the latest price quote, along with highs/lows, share volume and the daily chart, and Pre-Day and Post-day trade information.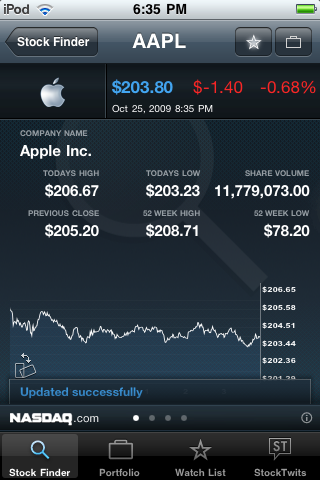 Rotating the phone gives you a full-screen chart and tapping the screen displays a options menu allowing you to change the timeframe and chart type.
The Portfolio function allows you to enter your stock information, along with number of shares owned and it will track total portfolio value and each individual stock position.
The Watch List function will track stocks, allowing you to enter stocks and easily monitor their performance. A nice feature would be the ability to set thresholds or target prices and push notifications, but alas no such feature, so hopefully that'll be added in a future version.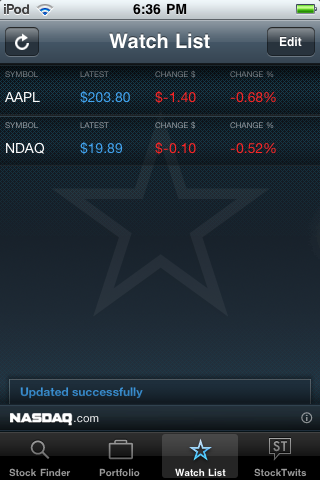 The last function is the built-in StockTwits function, which lets you follow the entire StockTwits Twitter stream or on the individual stock page the stream limited for that stock.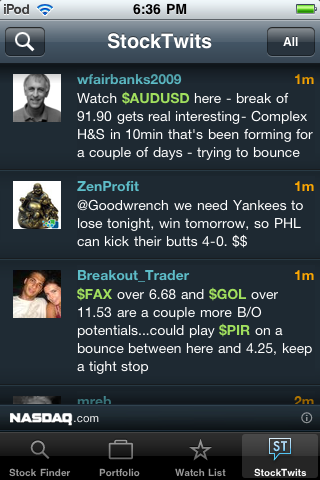 NASDAQ Portfolio Manager does a very good job helping you to track your portfolio and provides information not provided by other iPhone applications. If you need to track your portfolio's performance and see your net worth rise and fall, then NASDAQ Portfolio Manager is an app you should add to your iPhone.