So you're stuck using Gmail in a web browser, somewhere it lies lost in tab oblivion… getting no respect. There is hope! Its called Mailplane App.
Gmail in Mailplane
If you're like me, you love Gmail but feel its missing key functionality which puts a damper on your productivity in using Gmail in the browser. Coming from a corporate world, I love Outlook for windows just as much as I love Gmail. Yet I've never been satisfied with Mail.app, Entourage, or running a Virtual Machine or Emulator in order to run Outlook for Windows on a Mac. So you're stuck using Gmail in a web browser, somewhere it lies lost in tab oblivion… getting no respect. I'm here to tell you Mailplane will change how you look at Gmail and massively increase your productivity and user experience within Gmail.
So here it is, Gmail as we know and love it. Looks about the same on the surface, however what you see before you is Gmail turned into an Email Client. Don't get discouraged, its better than you might think. Notice the Toolbar at the top, from here you can snap a screenshot and automatically insert it into an email, insert media, switch accounts, or bring up your Contacts in Address Book. This is just the surface, so lets dive into some of the goodies in Mailplane app.
Most Google Labs features will work from within Mailplane, however some features are being added as fast as they are released. Currently Mailplane 2.1 Beta supports Google Gears for offline Gmail.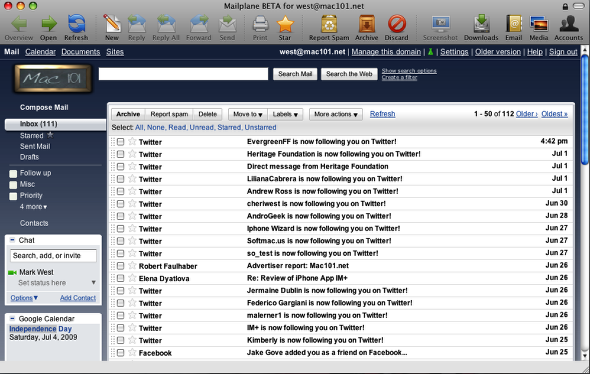 Preferences: General
Downloads is where you define the destination of downloaded attachments. When downloading items it will open a "Download Window" similar to Safari's where you will have the option to reveal the file in Finder, as well it keeps a history list of downloaded items.
Google Talk is integrated into Mailplane and will allow you to open up chat windows or the status window. You can also snap an active chat in and out of Mailplane.
New Mail Notifications is an excellent option, it will provide audio alerts for any new emails received. If you don't have Growl installed then I suggest heading over to Growl.info and installing this handy app which provides pop-up alerts based different computer notifications. It will pop-up a window with brief info on the email message received, similar to Microsoft Outlook email pop-up notifications.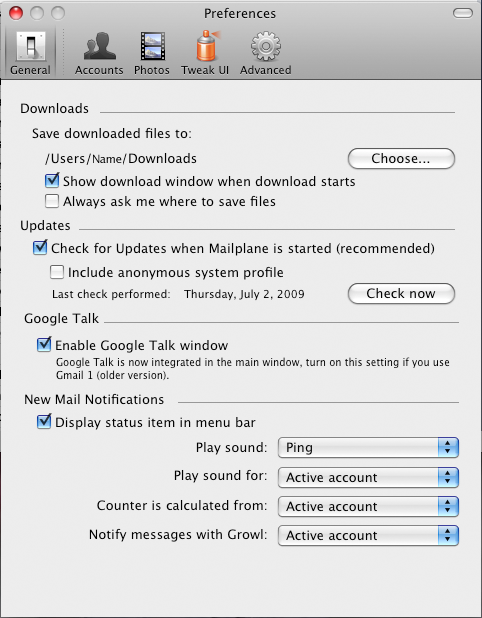 Preferences: Accounts
Mailplane gives those of us the option to easily manage multiple Gmail accounts. I have over a dozen Gmail accounts setup with Google Apps, most of which I just forward to my primary Gmail account. You can set your Google App email to send as yourdomain.com, however because Google still shows mail sent on behalf of [email protected] this can come across rather unprofessional when using this method to reply to emails. Mailplane by far has been the best option I have tested for managing multiple Gmail accounts. Once you have multiple accounts setup you can quickly switch between accounts.
Additionally you can specify custom signatures and text snippets (prepopulated responses) per account.
Preferences: Photos
Mailplane gives you the option to optimize photos when inserted into images, which can be nice when you select a dozen images from your latest and greatest digital camera.
iPhoto Integration will install a plugin that adds a Mailplane icon within iPhoto, allowing you to send emails quickly from iPhoto.
Preferences: Tweak UI
Tweak UI (User Interface) provides options to change some look and feel options in Gmail. Here you can opt to select the "Open drawer at startup", which will show a pop-out of all the accounts you have setup in Mailplane, if you use lots of accounts and have plenty of screen space go ahead and select this option.
Custom Stylesheets allows you to apply custom CSS to your Gmail app in Mailplane. You can get really creative here with the addition of Greasekit, and we will go over some modifications on just how to do this in a future post.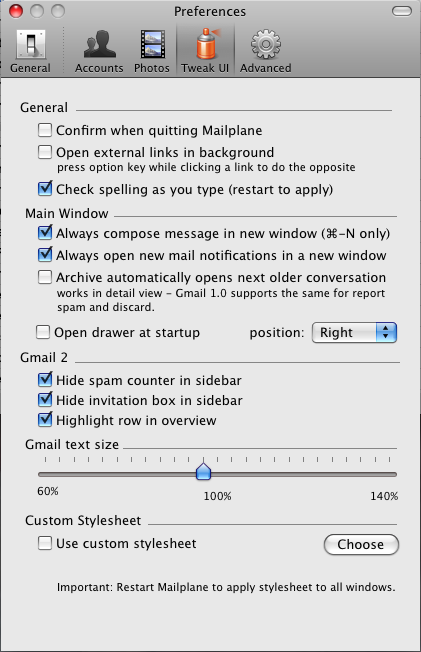 Preferences: Advanced
Be sure to set Mailplane as your default mail application, this will allow mailto links to automatically open in Mailplane. Gmail in the browser doesn't really have this capability.
With Mailplane 2.1 the option to enable Google Gears for Offline Gmail is available. This will allow you to use your Gmail offline (in Mailplane), an excellent option for those heavy travelers. Google gears can be enabled in Gmail Labs.
Opt for the "Close instead of hide main window". This will lower your CPU utilization a bit, I don't really notice any speed loss by selecting this option. Just a note, Mailplane bounces around 0-8% CPU utilization when idle. IMO there is room for improvement, but that is my only complaint with Mailplane! Even though 8% isnt bad, I'm just over critical of CPU utilization, you will never see Mailplane bogarting your CPU.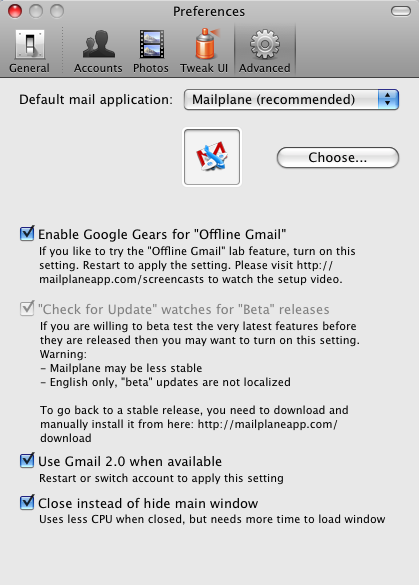 Attaching files in Mailplane
Use the drag and drop attachment feature once and there is no going back to Gmail in a web browser. You can select multiple files at once, drag them into Mailplane and they will automatically attach to your email. This is where the app shines, increasing productivity by making Gmail what it deserves to be, an Email Client.
If inserting an image and the Optimize photo option has been enabled, Mailplane will pop up a window (as seen below). You have the option to re-size your images and set a quality threshold.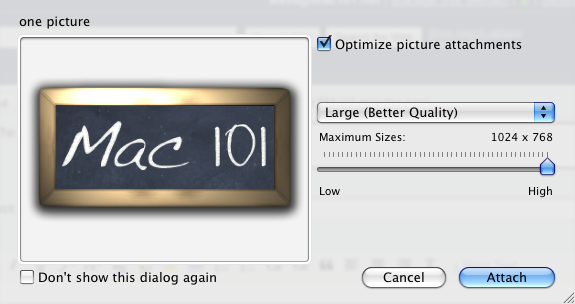 iPhoto Integration
Once you setup the iPhoto Integration in Preferences you can begin sending single or multiple photos from within iPhoto. The same re-size options apply here, click Compose Message and it will automatically insert the selected images into a new email.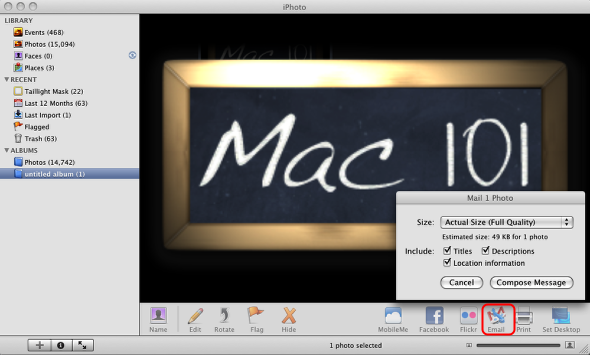 Overall I consider this app a must have for any Mac user who lives and breaths by Google and Gmail.
You can download Mailplane App here.
In future posts, we will show you how to tweak Mailplane to get other services integrated into your Gmail & Mailplane App. Stay tuned!
Email, Gmail, iPhoto, Mailplane, Productivity