Another camera app for the iPhone? Well, Camera Plus Pro developed by Global Delight is probably one of the most advanced camera apps available for the iPhone and if you feel limited by the iPhone's built-in camera functionality, then Camera Plus Pro will make your picture taking easier and improve the quality of those pictures.
Camera Plus Pro does everything you want it to. Bringing features and functions lacking from the iPhone's built-in camera app, Camera Plus Pro gives you tools to enhance the iPhone's picture taking abilities.
The features of Camera Plus Pro include:
- Zoom - Zoom in to a particular point easily
- Burst Mode - Capture multiple shots
- Timed Capture - Delayed capture of shots
- Crop - Crop photos directly within the app
- Adjust - Adjust brightness, hue, saturation, sharpness and contrast
- Filter - Add various filters to change look of your shots
- Watermark - Add watermark to shots
- Tags - Add custom tags to photos
- Sharing - Share photos to Facebook, Twitter and Flickr
Using the various features you can do just about whatever to your shots. As an example, the following photo was taken in a somewhat dark restaurant and using Camera Plus Pro was adjusted slightly for more brightness.
Original
Edited
With so many features available in Camera Plus Pro, figuring out the tools is a little confusing at first since the icons may not be very intuitive to non-photography professionals. But credit Global Delight with including a detailed Help function.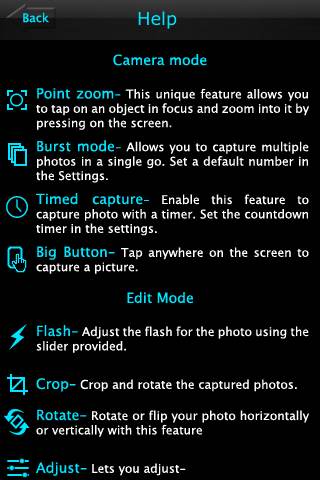 Once you get used to various functions, they can be accessed either before or after taking a photo using the menu button in the lower left corner of the window.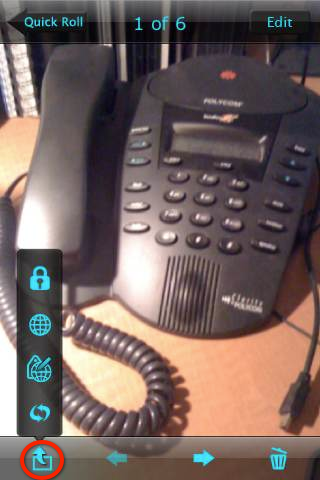 Once you're satisfied with your photo you can then quickly share them either via email, Facebook, Twiiter or Flickr using the built-in function.
All in all Camera Plus Pro is a great addition to your iPhone that allows you to quickly edit and enhance photos before sharing them with your friends and family. The features in the app make this a worthwhile replacement for the iPhone's built-in camera app and as I continue to use Camera Plus Pro I'm sure I'll become more proficient to the powerful tools that it brings to the iPhone.
Camera Plus Pro is available in the iTunes App Store for $1.99