iPad: Must Have iPad Apps (April 2010)
Well, the iPad has been available for almost a month now and new iPad-specific apps are being released almost daily. As the iPad App Store continues to grow and more sophisticated and specialized apps arrive, how do you pick the correct one?
There are already hundreds of iPad apps available, but these are five apps that I find are invaluable and that I use almost constantly.
Twittelator for iPad
Twittelator for iPad has taken Twiiter clients on the iPad to the next level. The interface is gorgeous and the application is lightning fast and more stable than some of the other apps that I've tested. The app is best viewed in landscape and provides your timeline on the left hand side, with the right hand side giving you the space to access other functions, including search, mentions, messages, etc. Another great feature is that Twittelator embeds photos directly into your timeline, eliminating the need to click on a link.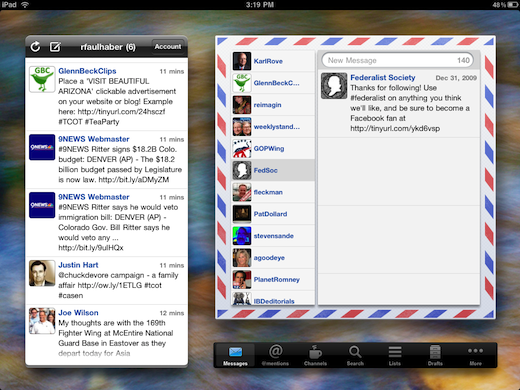 NewsRack
NewsRack is a full-featured RSS reader for the iPad that brings a clean, elegant and fast interface. Syncing with Google Reader and providing media sharing options for Twitter, Facebook, Delicious and Instapaper gives NewsRack the advantage over NetNewsWire at a cheaper price, only $4.99 compared to $9.99 for NetNewsWire.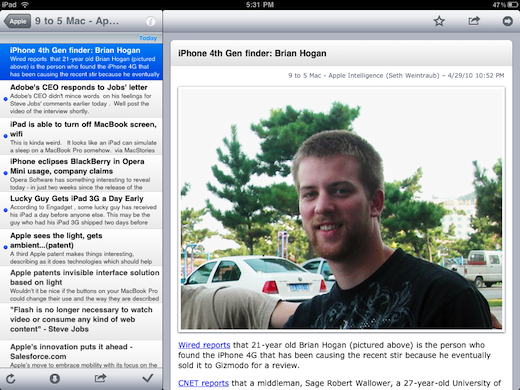 Evernote
Evernote helps turn your iPhone, Ipad and computer into a fully synchronized note-taking and management system. Using any of the apps lets you take notes, snapshots and recordings, putting it all into Evernote and staying synchronized across all your devices.
The Evernote iPad app brings a great new interface letting you organize and view your notes in a variety of ways. Organizing notes into notebooks places the notes stacked on each other like the iPad Photos app, but unfortunately can't pinch the notebook to open it. You can also view notes by location and even search and find notes by your current location.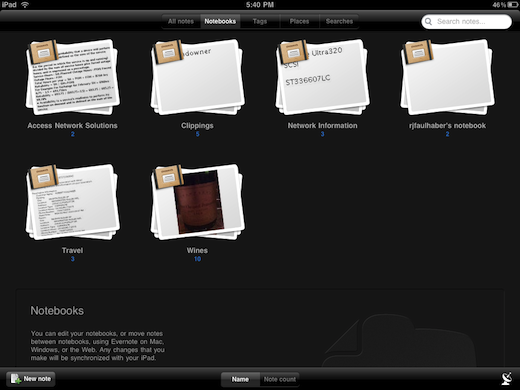 If you use Evernote on your iPhone of computer, this is a no brainer for the iPad.
Instapaper
Instapaper is a software/service that lets you mark articles you encounter across the web to "read later" using a bookmarklet in a browser or from other apps, such as NewsRack, noted above. Once you mark an article, you can access either the Instapaper website or using the Instapaper app. Once synchronized with the website, you can read your articles without being connected to the Internet.
The Instapaper iPad app allows you to organize articles into folders and read articles in a very reader-friendly format. If you want you can even go back and read the original article as originally formatted.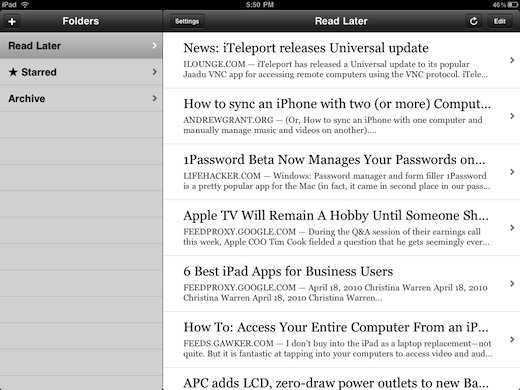 If you subscribe to many different RSS feeds or websites and can't digest everything, Instapaper gives you the ability to absorb and read your content on your schedule and the iPad app is another must have.
Kindle
When Apple announced the iPad there was much talk of how it was going to be the Kindle-killer. Instead Amazon made the smart move and developed an app for the iPad to keep that from happening. While iBooks is a great eReader application, right now I'll have to give the nod to the Kindle app due to the larger selection in the Amazon bookstore. If you do a lot of reading, I suggest the Kindle app for your iPad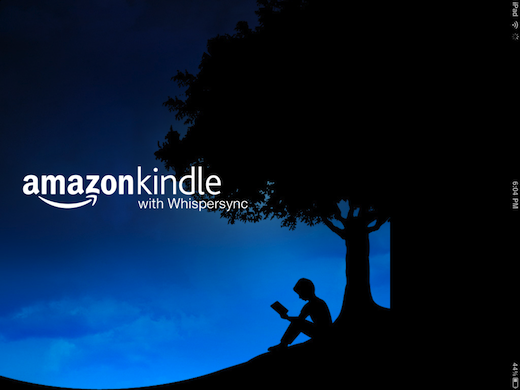 So, what iPad apps are you using and find invaluable? Let us know and if you want to write a full review, we'll give you an iTunes Gift Card, so you can buy more apps.