First Look: QuickBooks Mac 2010
Intuit has released the latest version of their financial software for businesses, with the release of QuickBooks Mac 2010, which brings improved features and enhancements over the 2009 version. New features incorporate the integrated ability to accept credit and debit cards, with the Intuit Merchant Service and a new GuideMe wizard that helps set up QuickBooks in minutes.
Improvements include better integration with iCal and Address Book, customized reports and charting, better e-mail support for invoices, estimates, reports and statements. employee time tracking, just to name a few.
Installation of QuickBooks Mac 2010 is simple and straight-forward, by dragging the program to the Application folder shortcut.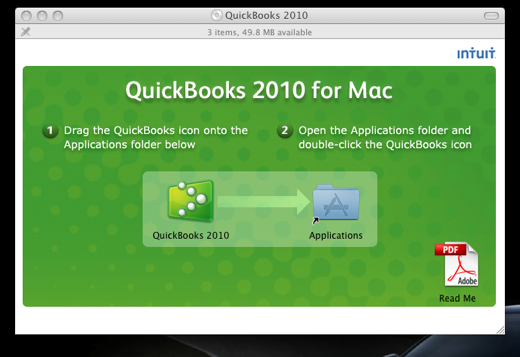 After agreeing to the License Agreement, registering the product (either online or via phone) the application will start and you will be presented with the QuickBooks Home Page.
The Home Page is divided into 5 areas or zones, related to Vendor, Company, Customer, Employee and Banking tasks. Each area has a basic flow diagram, showing the inter-relationship between tasks. For example, Invoices can't be created without inputs, such as Employee Time and Material Expenses. If you are new to managing your company's finances, these guides help and make sure that you don't miss any potential charges.
All areas and aspects, such as Chart of Accounts, Items & Services, etc. are fully customizable to the specifics of the business.
The Report Center contains numerous report templates that can be used out of the box, or customized as needed.
Based on our initial look at QuickBooks Mac 2010, we like what we see in the program and having used the Windows version in the past, the interface is a nice improvement.
We will do an in-depth review once we've had time to use the software for a period of time and let you know what we think.
Have you used a previous version of QuickBooks Mac and are now using this latest version? Let us know your impressions by leaving a comment below.