Well, it's finally here. Apple has released iOS 4.2 for both the iPhone and iPad and there is much rejoicing in the streets.
Late this morning Apple released iOS 4.2 for the iPad and after spending some time with it on the iPad, I'm liking what I'm seeing. The size of the update is 551.4 MB and took about 6 minutes to download through iTunes. The installation process included doing a backup both before and after and went smooth with no problems.
Upon starting the iPad, everything looks the same until you hit that Home button twice, you are greeted with the familiar multi-tasking bar, that has been on the iPhone since June of this year. This bar will display previous apps that you have been running allowing you to quickly return to any app that was left in a particular
state.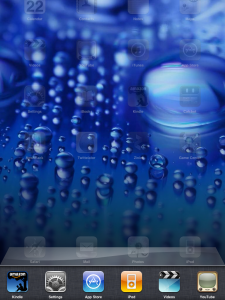 A change that Apple also made reverts the Screen Rotation lock button on the side of the iPad to it's originally intended Mute switch. So, you ask, "how do I lock the screen rotation?"; it's now done in software. Double-tap the Home button to display the multitask bar and swipe to the right. This will display iPod controls, including a new button on the left that allows you to lock screen rotation.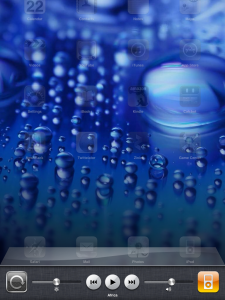 Folders are now also available, allowing you to organize your apps by category or whatever way you desire.
Another new feature, not previously available on the iPhone is AirPlay. AirPlay allows you to stream your audio and video content to a set of remote speakers attached to an Airport Express or to the new AppleTV. AirPlay works exactly as advertised if you are on the same wi-fi network. Starting the iPod, YouTube or the Videos app gives you the immediate ability to stream either audio of video. Other apps, such as NetFlix will be adding this capability soon.
In you media app, you will see a new icon to the right of the volume control. Tapping this will display the iPad and any other devices that you can stream your audio or video to. I tested this by streaming music content on my iPad to a set of remote speakers attached to an Airport Express and it worked flawlessly.
There are many other new features in iOS 4.2, but at first glance at these primary ones, I'd have to say Apple is giving the Android-based and other tablet companies a real high measuring stick to come up to with their products.
What do you think of iOS 4.2? If you find any cool tips or trick, please post them below.